Its half term already, and we are for ever looking for joyous opportunities of keeping the kiddie winks occupied whilst our work carries on.  Well, we have gone the extra mile for you this holiday with this fabulous Horse and Show Jump cut out and colour, and it's 3D so you can make it stand up too! The kids (or yourself!) can make their very own show jumping course.
You may want to share this with your School, Pony Club Group or Riding Centre or go it alone?
We love colour in the JSW House, so get your creative juices flowing.
Share your finished collaboration on our Facebook and Instagram pages and add the hashtag #myjswpony to your finished picture.
LOOK OUT! If you surprise us with your talent we might just do a spot prize or two!
Download our fabulous Family Lockdown idea #myjswpony and share with us your artistic flair to your horsey friends today!
Don't forget we manufacture some fantastic mini show jumps for the little ones, go take a look here >>>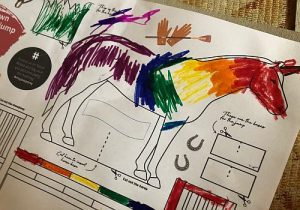 by Darcey aged 3  1/2  #myjswpony