A Guide to maintaining trailers and the importance of getting it done:
Trailer Servicing –  Is a MUST not a luxury, it's a necessity – keep your trailer in tip-top condition, increase its lifespan and residual value, as well as safety for your, your horse and other road users.
Although trailers do not have 'engines' to go wrong, and it follows your car, it is essential to remember that they are road going vehicles and therefore you are advised to arrange a regular trailer service to ensure they are always 'road safe' and not going to let you down.  Recommendation on having your trailer serviced, no matter how many or how little miles you travel, realistically, is once a year.
Your trailer has brake shoes, brake cables, and a braked hydraulic damper which must all talk to each other when you place your foot on the pedal-brake of your car.  Your tyres must comply to road safety standards too, standing trailer tyres loose pressures and with little use the walls deteriorate / perish.  Also your road lights must all work.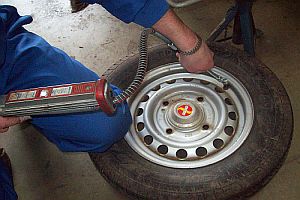 Undetected faults caused by lack of proper servicing are the major cause of breakdown or accidents involving trailers. Faulty lights, brakes and worn tyres being the most common.
Make sure you get your trailer serviced by a reputable service centre not necessarily a car garage as trailer brakes are different to a car!
Whatever the type of trailer you own, we have an experienced team capable of carrying out trailer servicing.
To arrange a trailer service/inspection, please call the office to make a suitable appointment on 01609 772449 – our reputation is not regional it's national and regular customers come from as far as Scotland, Lancashire, Lincolnshire as well as the Yorkshire's to have their trailer serviced with us!
Helpful trailer Tips
Breakaway cable – is there for a purpose on a braked trailer – if you come un-hitched from your towing vehicle for any reason, it is there to pull on the handbrake, slow down and then stop your trailer – do not replace it with a chain, if you do, you are stating that your trailer and load is unsafe, and if your trailer came un-hitched, it would stay attached to the towing vehicle with a chain causing major snaking and could run into other vehicles/pedestrians which could result in a fatality, and/or tip over the trailer & towing vehicle.  Also you insurance may become invalidated.
Ensure your breakaway cable is fitted at ALL times, if you break it off then we can do an on-the-spot fitting of a new one, no appointment needed, just call in, We are open Monday to Friday 8am-5pm.
Operator Licence -Generally all trailers up to 3500 kg gross weight are exempt from operator licensing for private use and transporting goods and equipment in connection with your business. However since December 2011 any vehicle and trailer combination with a Maximum Authorised Mass (GTW) exceeding 3500kg if transporting other people's goods for hire or reward will need a Standard Operators Licence. Unless the towing vehicle is a Dual Purpose Vehicle, cars, 4 x 4′s, Land Rovers and Pick ups with 2 rows of seats etc. which are still exempt.
Certificate of Conformity  – All trailers built after October 2012  have to be type approved and be supplied with a certificate of conformity (currently not necessary in the UK).  All of our trailers we sell have European Whole Vehicle Type Approval; the 'e' number is marked on the trailer plate. It will be illegal to use a trailer, in Europe, built after this time without the appropriate type approval.
The certificate can be used to register the trailer in any European country where registration is required.  In the UK this certificate must be kept and passed to the new owner if and when sold, further legislations will follow within the next few years for the UK.
Trailers now cannot be 'home-made' and sold without 'type approval' which is not viable for a private individual to do; hence all trailers should be purchased through legitimate companies.
Trailer Brakes:  Trailers up to half the kerb weight of the towing vehicle do not require brakes up to a maximum limit of 750 kg. Above this weight and up to 3500 kg gross auto-reversing over-run brakes are required on all wheels and all equipment must comply with E.U. regulations.  Trailers with older braking systems are still legal to use as long as they complied with the regulations at the time that they were built.
Over-run brakes mean that the trailer brakes apply when the trailer begins to push a decelerating towing vehicle. Auto-reverse means that the trailer brakes disengage automatically when the trailer is reversed eliminating the need to mechanically stop the brakes applying when reversing.
When to have brakes on a trailer –  Once a trailers gross weight is greater than 750kg then by law your trailer must be fitted with brakes.  If you have a twin axle trailer grossing over 750kg, and it has brakes, then BOTH axles MUST be fully braked by law – you cannot have one braking axle, unless your trailer is single axle.
Lights on your trailer – all trailers must be fitted with rear reflecting triangles, rear marker lights, stop lights, direction indicators and number plate illuminator, rear fog lights are required if your trailer is greater than 1300mm in width and front reflectors are required if your trailer is greater than 1600mm in width.
Front marker lights – required on trailers greater than 1600mm
Side marker lights – trailers over 6mtr in length excluding drawbar must be fitted with side marker lights.
End outline markers – are required on front & rear of all trailer over 2.1m wide