Looking for Horsebox & Trailer Spares?
Bockmann Portax K Horse Trailer
We are so pleased to offer the World's BEST horse Trailers.  The Bockmann Portax K  could be waiting for you.  Struggling to find a trailer to fit your trusted steed?  If you have LARGE, or simply TALL horses, or looking for quality in German technology then this is for you. Read more about the World's best horse trailers.
The UK Market needed another breed and its offspring and was missing another front and rear unload horse trailer, but with a difference.  The Bockmann Portax K model is a large double front & rear unloading horse trailer with space and superb quality of build, and is certainly worth looking into. Look out for the Portax K in Silver Metallic in store.
More comfort, superb quality and, above all, plenty of space for the various needs of horse and rider. The new Bockmann Portax K has even a water drain gutter at the front right is impressive in every aspect. Be inspired by the variable spatial concepts and discover the multiple special features of the Portax models.
Even greater handling thanks to the world-class chassis conforming to automobile standards with hot-dip galvanised individual wheel suspension, coil-spring suspension and wheel shock absorbers, meeting the 100km/h requirement (with reference to the German Road Traffic Act).
HANDLING IS CHILD'S PLAY: thanks to the free-moving crank for the high, load-bearing automatic jockey wheel and the optimally located manoeuvre handle at the bow. The lockable cast coupling with soft-top crash protection and rubberised ergonomic heart-shaped handle provide crash and theft protection.
MANY DIFFERENT APPLICATIONS: As a result of the rear-ramp/1-wing-door combination fitted as standard. This enables the horse trailer to be conveniently loaded, even using a forklift for example when transporting feed or round bales.
Easy access without having to bend over thanks to the full-height locking access / jockey door.  Unbeatable space available with the generous interior height of 2300 mm, the Portax offers plenty of headroom in any situation.  Saddles in the trailer with the tack compartment which can be accessed from inside and the generous amount of space available with an interior height of 2300 mm.
TECHNICAL SPECIFICATIONS
| | kg | mm | mm | mm | mm | mm | mm | kg | |
| --- | --- | --- | --- | --- | --- | --- | --- | --- | --- |
| Alu | 1321 | 4725 | 2350 | 2815 | 3495 | 1750 | 2300 | 2400 | 2 |
Let us help you make the right decision in your forthcoming horse trailer purchase at JSW Trailers on 01609 772449.
For more Bockmann Trailers CLICK HERE 
For Merchandise and SECURITY for your new trailer POP OVER HERE.
Bockmann warranty schedule and service details please download this important information HERE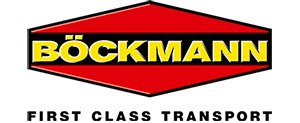 We are so pleased to offer the World's BEST horse Trailers.  We have available, from stock, the Bockmann Portax K
Brand
Bockmann
We are pleased to be bringing you the crème de la crème of serious horse transportation.
With probably the largest range of trailers in the world, at last the professional horse-person can have equine transport of their dreams.
The quality of Bockmann outrides any other on the market to date.  Bockmann has moved horse transport to another level with unique futuristic designs built with utter quality materials all without compromise. We are certain once purchased you will never go back.
Download warranty and service booklet for horse trailers
here