** FACEMASK REQUEST **
Despite the government's announcement of masks not being a legal requirement from Monday onwards, at JSW, we have taken the decision to ask customers to wear them whilst inside at our premises. We feel that this is currently the safer option especially due to COVID being very high in our area at present and want to protect ourselves, families, and you. Thank you for your cooperation.

Looking for Horsebox & Trailer Spares?
Bockmann Alum Box Van Trailers
Highest functionality meets shapely design. The Bockmann Alum Box Van Trailers of the KT-PB-AL F Series are particularly impressive due to their robust construction. Have all-aluminium body and low loading height. The trailers are equipped with a high-quality polyester bow (front nose) and roof, which can be selected in several colours, making your trailer stand out from the crowd!
The standard rear 1-wing door/ramp combination on the Bockmann Alum Box Van trailers have many other detailed solutions complete the equipment of the trailer. The interior has an additional storage compartment in the front. Thanks to its design and the numerous accessories. The enclosed trailer is ideal for transporting e-bikes or motorbikes. The lowered chassis ensures comfortable loading and unloading.
With the Böckmann design package, the KT-PB-AL box trailer becomes a real eye-catcher.
Available in different sizes and specifications, these van trailers are hitting the UK market for 2022.
Just a few notes on their build-type:
Bolted V-drawbar: V-drawbar bolted directly to the frame and a bolted chassis – for excellent ease of maintenance and service.
Large entrance: Passage heights and widths provide comfortable access heights and ample space.
Aluminium wedge profile (ramp): for particularly flat surface without high edge for convenient loading and unloading e.g. of e-bikes or motorbikes.
Full length screen-printed floor panel: for a stable, bolted and non-slip loading surface, glued and sealed several times.
Interior lighting: The aluminium van trailers are equipped with an LED interior light. This ensures good illumination even at dusk or at night.
Innovative rear ramp/door locking system: with robust locking bolt for convenient opening of the door. With the help of the clever locking mechanism, the door automatically engages when closed.  Just look how sturdy the rear tailgate is!
A ramp with no gaps: without space or edge for convenient loading and unloading, e.g. with an e-bike or motorbike.
Inside Storage compartment: as a clever detail solution for maximum storage space, e.g. for stowing lashing straps. With water drain for cleaning. (see picture with lady inside holding goods above head).
With much more to say on these trailers why not give us a call to discuss on 01609 772449, from single axle to twin axle, there will be a trailer to suit you.
Want to see some more Bockmann Trailers?  Then do have a scroll HERE >>
For trailer parts and security products the pop over to our sister website HERE>>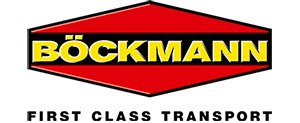 Highest functionality meets shapely design. The Bockmann aluminium Box Van Trailers of the KT-PB-AL F series
Brand
Bockmann
We are pleased to be bringing you the crème de la crème of serious horse transportation.
With probably the largest range of trailers in the world, at last the professional horse-person can have equine transport of their dreams.
The quality of Bockmann outrides any other on the market to date.  Bockmann has moved horse transport to another level with unique futuristic designs built with utter quality materials all without compromise. We are certain once purchased you will never go back.